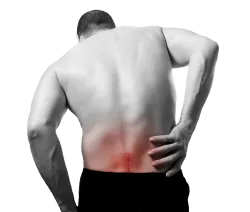 For over 30 years, 1st Choice Health and Wellness has helped many patients get relief from chronic or severe upper, middle or low back pain. There is a long list of factors that can cause back pain, and it can happen to people of any age.
Chronic lower back pain is a big problem in America. Some people think prescription medications and/or surgery are the only solutions available to them. Not so.
Our New Albany back pain doctors understand you may feel back pain after you've sat in one position for a long time, lifted a heavy object or have been in an accident. Or acute lower back pain caused by a sudden injury to the bones, nerves, muscles and ligaments in the spine.
We specialize in treating conditions that contribute to back pain using natural, non-surgical therapies such as laser therapy for lower back pain, spinal adjustments, acupuncture, physical therapy, rehabilitative exercises, nutritional counseling and more. No matter what your circumstances are, our back doctors in New Albany are here to help!
What Are The Most Common Causes of Back Pain?
Chronic and acute back pain is caused by many different conditions or health problems. Some of the most common include:
Muscle Strains and Sprains. Damage to the muscles supporting your spine can pull your back out of alignment and lead to pain. You may have suffered from soft tissue damage by lifting an overly heavy object, quickly moving into an awkward position, or during a slip or fall. Our chiropractic adjustments gently realign your spine and help the muscles to remember their proper position.
Disc Conditions. Your back pain may be a result of a disc condition that decreases the space between your vertebrae. Slipped disc, herniated disc, ruptured disc and degenerative disc disease are top causes of back pain and we have solutions for these. With traction and manipulations, our back pain doctor in New Albany, Indiana will increase the space for your discs and remove the painful pressure on your nerves.
Sciatica. Sciatica is a common cause of back pain. Sciatica refers to pain caused by compression of the sciatic nerve. Typically, sciatica affects only one side of your body. You may feel burning sensations, sharp shooting pains, throbbing, dull persistent aching or intense leg pain.
Osteoarthritis. A weakening in the bones, such as osteoporosis, may also lead to back discomfort. If you are dealing with osteoarthritis, the pain in your spine can be debilitating. Our chiropractic care services can lessen the chances of further weakening of the bones and also provide relief from the pain. We teach you exercises to strengthen the bones and muscles and lead to an improved quality of life.
Abnormal Curvatures. If your spine has an abnormal curve such as scoliosis, lordosis or kyphosis, we help to gently nudge your spine into place. We also educate you on corrective exercises to help keep a normal curvature and reduce your discomfort.
Sometimes, the cause of back pain may just be unknown, like Fibromyalgia. The pain may range from dull and a never-ending ache to sharp, intense pain.
Risk Factors for Back Pain
There are a number of factors that can increase the risk of upper, mid or lower back pain that will require treatment. Physical risk factors include being middle-aged or older, pregnancy, past compression fractures and family history. At the same time, there are risk factors for back pain that you can change with lifestyle changes.
These risk factors include being overweight, poor posture, physically demanding jobs, sedentary lifestyle and stress. Excess body weight puts a strain on the back, and a sedentary lifestyle leads to weaker muscles.
Our Approach: Treatment for Back Pain in New Albany
Once our New Albany chiropractor has a better understanding of your individual wellness needs, we will provide you with a personalized treatment plan that may include a combination of therapies, including
These are some of the natural, holistic, non-surgical techniques and therapies we use in our clinic in New Albany:
Spinal adjustment. Also known as a "chiropractic adjustment," a spinal adjustment eliminates subluxations and helps ensure that signals from the brain reach the various parts the body. Spinal adjustment also ensures that the vertebrae of the spine are in proper alignment, reducing pressure on the joints and minimizing joint and muscle pain.
Cold Laser Therapy For Low Back Pain. Our New Albany back pain doctor and medical team specialize in low-level laser therapy using state-of-the-art technology from Erchonia, the first low-level laser to be FDA market to treat chronic low back pain. Low level lasers are proven to be effective in reducing and eliminating acute and chronic pain in the neck & shoulders.
Spinal Decompression. Spinal Decompression relieves pressure that builds up on the discs and nerves. The treatment is so comfortable, some of our patients become very relaxed and fall asleep during the treatment!
Physical Therapy & Rehab Exercises and Stretches. Chiropractors show their patients how to do exercises and stretches that strengthen muscles, speed the healing process and increase range of motion. This makes it easier for patients to exercise, lose weight and make their bodies healthier.
Nutritional and lifestyle advice. Chiropractors also offer patients nutritional advice and lifestyle advice, thus helping patients make better choices and preventing problems from recurring.
If you're experiencing back pain or have back pain questions for our doctor, our New Albany chiropractor will perform a full examination and physical evaluation to recommend a specific treatment that works for your needs. lf appropriate, a series of successive spinal decompression sessions will be prescribed.
At 1st Choice Health & Wellness, our New Albany chiropractors and physical therapists can implement a holistic approach to relieve your back pain. Call us today at (812) 220-0040 to schedule an appointment!