1st Choice Health & Wellness offers spinal decompression therapy in New Albany & Louisville to treat acute and chronic pain, injuries and conditions for patients throughout Southern Indiana. Spinal decompression is a treatment program used for treating a full range of soft tissue and joint injuries and conditions. It's gentle stretching relieves the pressure that has built up over time on the discs and nerves.
If you are having back pain and other related symptoms in Jefferson County are looking for spinal decompression therapy near you, 1st Choice is here for you!
Common Conditions Treated by Spinal Decompression:
Our New Albany clinic provides spinal decompression treatment for a range of acute and chronic pain problems including:
Herniated Disc (Disc Herniation, Bulging Disc, etc.)
Back Pain
Leg pain
Weakness
Sleep Apnea
Burning Pain
Watch Our Video on Spinal Decompression Below
What is Spinal Decompression?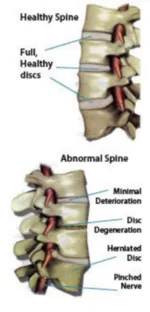 Spinal Decompression relieves pressure that builds up on the discs and nerves. The task of relieving pain comes about as a result of application of negative pressure to reverse high intra-disc pressure. Decompression relieves pain by moving areas of herniated disc back into place by the creation of negative pressure to draw disc material back into the disc space and relieve pressure.
Decompression allows for strengthening of the outer ligament bands that hold the disc material in place and which become weak and stretched during the bulging effect.
The treatment is so comfortable, some of our patients become very relaxed and fall asleep during the treatment! What they feel is the relief that comes with reversing the high intra-disc pressure in their spine.
What To Expect During Spinal Decompression Session
A spinal decompression therapy session is an easy, quick, painless process. We will attach straps to stabilize your body as you lie comfortably on the treatment table -- either face-down or face-up, depending on your condition. Our chiropractor programs to the table to administer just enough flexion-distraction force to produce the desired results.
A typical treatment takes less than 45 minutes, and symptom relief may be noticeable after just a few sessions. But you should expect to schedule multiple sessions over a period of several weeks if you want to get the greatest possible benefit from this form of care.
Spinal decompression often works well alongside other natural healing techniques. If your condition includes a variety of issues such as muscular strain, postural problems or systemic health trouble, we can provide you with a holistic treatment plan that adds chiropractic adjustment, physical therapy, strength training, and other helpful modalities to your unique treatment program.
Call Our Doctor in Louisville for Spinal Decompression Therapy Near You!
No matter if your back has been hurting for years or it just started recently, our New Albany spinal decompression specialists can help. Our treatments provide our patients with long-term pain relief.
If you need spinal decompression treatment in Louisville, Clarksville, New Albany, IN or any surrounding areas, call us today to schedule an appointment. for additional information.
Ask about a Free DVD to learn more about Spinal Decompression when you call!