Chiropractic Treatment at 1st Choice
At 1st Choice Health & Wellness, our doctors utilize state-of-the-art chiropractic therapies and techniques to diagnose, treat and manage a wide range of conditions that affect the musculoskeletal system (particularly the spine).
As your trusted chiropractic team in New Albany IN, we're dedicated to making sure our patients are as informed as possible. We understand that many of our new patients and prospective patients are seeking more information on chiropractic care, what it entails, and how it can help them lead healthier lives. Learn more about the different therapies and treatment options at 1st Choice.
Benefits of Chiropractic Treatment at 1st Choice in New Albany
There are so many reasons to turn to chiropractic care if you're suffering from chronic pain, including

Chiropractic care does not employ the use of prescription medications to "mask" your symptoms; instead, these methods are meant to treat your symptoms at the source. As a result, you don't have to worry about the unpleasant side effects and risks that can come along with being put on a new medication.
Chiropractic techniques are non-invasive, so they're a great alternative to more invasive treatments and procedures (such as surgeries) that come with their own risks of complications.
There are numerous health problems, injuries and conditions that can be treated through the use of skilled chiropractic care. Among the most common conditions: back and neck pain, herniated or bulging discs, sports injuries (elbow pain, tendonitis, etc.), carpal tunnel syndrome, knee and leg pain, pinched nerves, sciatica, hip and shoulder pain, low back pain, headaches and more.
A Doctor of Chiropractic works to treat the root cause of health problems, rather than focusing on symptoms only. How does a Doctor of Chiropractic differ from an MD? The main difference between a traditional MD and a doctor of chiropractic is that chiropractors do not prescribe medications; this is mainly due to the fact that chiropractic techniques aim specifically to avoid the need for medication or invasive procedures by providing drug-free, natural care that addresses the source of the problem directly. Chiropractic doctors are required to obtain a doctorate degree from an accredited institution of higher education. These degrees require an average of eight years of specialized education and training to complete.
Treatment: Our New Albany Chiropractic Therapies & Techniques
With chiropractic methods such as spinal adjustment, spinal decompression, and low level laser treatment, symptoms can be effectively treated.
Chiropractic Adjustment (Spinal Adjustment)
A chiropractic adjustment is a manual manipulation of the body, most often the spine area. Our chiropractor uses his hands or an instrument in this manipulation, designed to restore joint function and help the neuromusculoskeletal better align to promote health.
Chiropractic adjustments are a controlled procedure performed by a well-educated chiropractic physician. It rarely causes discomfort. In fact, patients often note a release of pressure after treatments that provide relief.


Spinal Decompression
Spinal Decompression relieves pressure that builds up on the discs and nerves. The task of relieving pain comes about as a result of application of negative pressure to reverse high intra-disc pressure. Decompression relieves pain by moving areas of herniated disc back into place by the creation of negative pressure to draw disc material back into the disc space and relieve pressure.
Low Level Laser Therapy (Cold Laser Therapy)
We use state-of-the-art technology, using FDA-Cleared Erchonia Cold Lasers to treat chronic pain. A variety of low level lasers are proven to be effective in reducing and eliminating acute and chronic pain in the neck & shoulders. Learn more about our cold laser treatments here.


Gentle Chiropractic - Pro Adjuster Treatment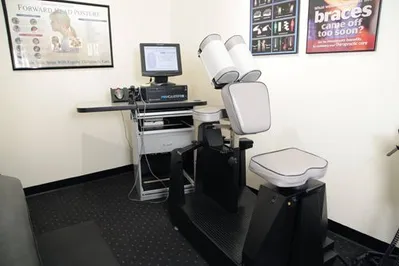 At 1st Choice Health & Wellness, we can realign your spine painlessly without the "popping or twisting" that have been associated with manual chiropractic treatments in the past.
The Pro-Adjuster Treatment System uses a computer controlled instrument to introduce a gentle mechanical force into your body. The Pro-Adjuster computer constantly measures the body's responses to this force through a system of sensors. Our state-of-the-art computer software captures and reports the data and our specialists analyze the results and determines a program that best fits your needs.
The Pro-Adjuster Treatment System allows our professionals to assist patients with difficult cases like the post-surgical, elderly and physically fragile patients without using the "twisting and popping" from traditional manual adjustments.
If you would like to discuss the Pro-Adjuster Treatment System as a pressure free alternative to spinal adjustments contact 1st Choice Health & Wellness at (812) 220-0042.
Hivamat™ Treatment
The Hivamat™ is our newest tool in the fight against pain, discomfort and inflammation. Hivamat™ treatments are used for injured or inflamed muscle, joints and ligaments. This treatment is used by professional and college sports teams such as the New York Yankees, Indianapolis Colts, University of Louisville Cardinals and many others.
Hivamat uses pulsed electrostatic energy to create a field between the therapist's hands and the affected area. This results in a "resonant oscillation" which has a 'kneading' effect on the damaged tissue, so with minimum pressure the therapist can penetrate to the core of an injury. The deep penetrating vibration of the tissues causes a powerful pumping action which improves circulation, lymph drainage and the uptake of nutrients.
If you're experiencing pain and discomfort due to muscle inflammation or joint pain contact 1st Choice Health and Wellness to learn more about the benefits of Hivamat treatment. Contact 1st Choice Health & Wellness at (812) 220-0042.
Request an Appointment With Our New Albany Chiropractors for Pain Relief!
If you're interested in seeking chiropractic care, we encourage you to schedule an appointment with our experienced New Albany chiropractors today. Call us today at (812) 220-0042 to request an appointment that works with your busy schedule.