When you think of the ongoing need to provide health and wellness care for your children, your thoughts naturally turn to your primary doctor or pediatrician. But there's another critical member of the health and wellness team who can help your little ones thrive -- and that's our skilled chiropractic team here 1st Choice Health & Wellness. Pediatric chiropractic care can help ensure that young bodies grow, develop and function properly, and it can even ease many common childhood medical complaints safely and effectively.
How Our New Albany Pediatric Chiropractic Care Can Help Your Child
Our gentle chiropractic treatment and other natural techniques can help relieve pain from injuries or illnesses without the need for drugs or pediatric surgery. Correcting the spine can improve the nervous system's ability to govern all the body's systems -- so by optimizing your child's nerve function, we can boost his immune function.
Even infants can safely undergo our New Albany chiropractors' gentle adjustment techniques to correct any misalignment problems that might inhibit their future growth and development.
Pediatric/Infant chiropractic care can also relieve or prevent problems such as:
Ear infections and other kinds of infections
Allergies, asthma and other bronchial conditions
ADD
Colic, sore throat and other painful conditions
Colds and fevers
Bedwetting
The human spinal column is subjected to a variety of stresses and strain from the very first moments of life. Simply being born can cause subluxation (musculoskeletal misalignment) issues, as the passage through the birth canal stretches and compresses a newborn's body.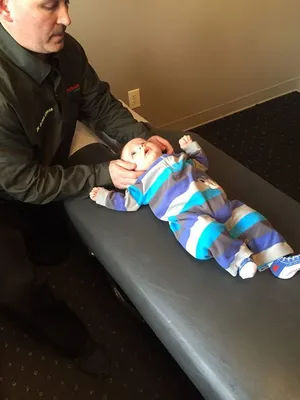 As babies learn to crawl, walk and explore, their spines experience numerous bumps, jars and other minor traumas that can nevertheless contribute to alignment issues and nerve dysfunction. Older children can be vulnerable to even greater bodily stresses due to contact sports, heavy school backpacks and the rapid growth they continue to undergo.
Pediatric chiropractic care can address all of these potential wellness threats right from the beginning of a child's life.
As your child becomes more and more active, periodic spinal screenings and adjustments can help us make certain that all is well, with minor adjustments administered as needed to encourage straight posture and healthy nerve function. In fact, once your child reaches school age, it's a good idea to schedule a chiropractic wellness evaluation at the beginning of each new school year.
The benefits of pediatric chiropractic care aren't solely preventative in nature.
Additionally, while chiropractic adjustment cannot reverse scoliosis, our regular screenings can detect its presence early enough that we can recommend other treatments such as braces that can minimize the condition's progress.
Schedule Pediatric Chiropractic Care at 1st Choice Health & Wellness
If your want your children to get the healthiest and most comfortable start on a long and happy life, bring them to 1st Choice Health & Wellness. We have the necessary skill, experience, patience and compassion to work with patients of all ages. Call (812) 945-4500 today to schedule a pediatric wellness evaluation!