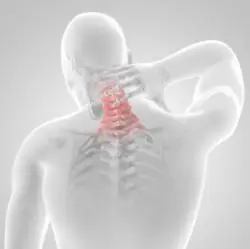 1st Choice Health & Wellness treats all types of health problems, including
pinched nerves,
for patients of all ages.
Our comprehensive care focuses on the underlying cause of your pain and relieving it through various natural, nonsurgical treatments. Each of our treatment plans are custom tailored to each patient, designed to fit their individual needs and condition. If you are looking for a New Albany pinched nerve doctor, we are here for you!
Background On Pinched Nerves
A pinched nerve happens when a lot of pressure is applied to a nerve by surrounding tissues, like a bone, muscle or a tendon.
The spinal cord extends down the middle of the spin and branches off to nerve roots. The nerves come out of the vertebrae. When you turn, the vertebra may get stuck and compress the nerve as it exits the spinal cord. This condition is known as a pinched nerve. It can be very painful because it's the direct root that comes off the spine.

A pinched nerve in the mid-neck or upper back area can cause pain that radiates down the arm. Pinched nerves in the lower back region can cause sciatic pain right down to the legs and toes. A pinched nerve doctor near you will be able to determine the root cause of the problem to relieve your pain.
Causes and Symptoms of Pinched Nerves
There are a variety of circumstances that can cause the compression of a nerve. Nerve compression often occurs when a nerve is pressed between tissues, such as bone, tendon and ligament.
-Repetitive motions and holding the body in one position for long periods of time can cause pressure on a nerve.
-Additional causes of pinched nerves include injury, poor posture, rheumatoid arthritis, sports activities, pregnancy, bone spurs and obesity. Pinched nerves can also lead to scarring, peripheral neuropathy, carpal tunnel syndrome and tennis elbow.

A pinched nerve can occur in several areas of your body. A herniated disk may put pressure on a nerve root and cause pain that radiates down the back of your leg. A pinched nerve in the upper neck and lesser occipital nerve can cause headaches. Furthermore, a pinched nerve in your wrist can lead to pain and numbness in your hand and fingers.
The top 4 symptoms of a pinched nerve include:
-Pain in the area of compression, such as the neck or lower back
-A Feeling of Numbness or Decreased Sensation in the Area
-Paresthesias or a Tingling Feeling ("Pins & Needles")

-Muscle Weakness
Testing & Treatment for a Pinched Nerve in New Albany, IN
If our New Albany pinched nerve doctors suspect a pinched nerve, we may order some tests. With a nerve conduction test, the electrical nerve impulses are measured in the nerve signals. An EMG is a test that evaluates the electrical activity when the muscles contract and are at rest. An MRI produces detailed views of the body in multiple planes to diagnose a pinched nerve.
Both physical therapy and chiropractic care are effective treatments to relieve the pain associated with a pinched nerve. At our office, we use a variety of modalities to treat pinched nerves, including cold laser, ultrasound ice, strengthening exercises and soft tissue massage. Chiropractic manipulation helps straighten out the spine and alleviate the pressure of a pinched nerve. It actually fixes the cause of the problem instead of masking it. We also use state-of-the-art technology in chiropractic care, including the Pro-Adjuster Treatment System. This computer controlled instrument introduces a gentle mechanical force to the body and measures the body's response through a system of sensors.
The goal is to reduce pain, improve mobility and decrease stresses placed on joints and discs.
Call Today To Schedule An Appointment With Our Pinched Nerve Doctors In New Albany, IN
At 1st Choice Health & Wellness, our team of physical therapists and chiropractors offer a comprehensive approach to treating pinched nerves. Our holistic approach includes chiropractic care, physical therapy, and nutritional counseling. Our physical therapy treatment plan includes electrical stimulation, manual therapies, exercise, heat and cold therapy and exercise as part of rehabilitation.
For more information or to schedule an appointment with our pinched nerve doctor near you, call us today at (812) 220-0043!