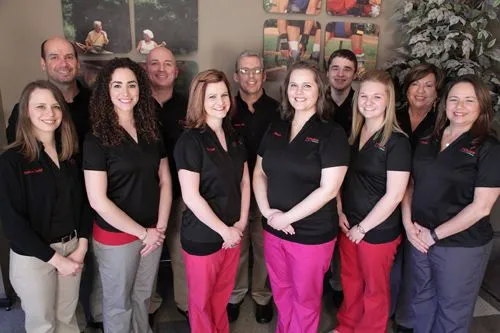 Welcome to 1st Choice Health & Wellness!
For over 33 years, we have served patients of all ages throughout Floyd County, Indiana and surrounding areas including Clarksville, Jeffersonville and Louisville, KY.
If you have chronic pain, have suffered from an auto accident, work or sports injury or looking to improve your overall health, our New Albany chiropractors and integrated medical team is here for you and your family!
Our Approach:
At 1st Choice, we believe that there is a better and safer way back to health.
We focus on whole body wellness without the use of medications.
This means considering the health of every other part of your body as we treat the problem area. Chiropractic, acupuncture, physical therapy and nutrition are just a few of the therapies and treatments we offer to reduce your pain through completely natural means. We also place an emphasis on nutrition, wellness and lifestyle modifications for promoting physical and mental health.
As a patient, we will personally tailor a chiropractic and wellness program specifically targeted to your needs using the least invasive yet highly-effective techniques and services.
Our Services:
Our experienced New Albany chiropractors and professional staff offer drug-free care, noninvasive, natural forms of treatment, such as chiropractic adjustments, acupuncture, and beyond, so you can benefit from pain relief without having to worry about adverse reactions or side effects.
Conditions & Injuries
Our team is personally committed to diagnosing the problem, implementing corrective treatment and restoring functionality and mobility. We can help treat a large variety of injuries and conditions including, but not limited to:
Back Pain (Upper, mid, lower back pain)
Joint Pain
Work Injuries
Call Our New Albany Chiropractic & Wellness Team For An Appointment!
If you have been suffering from chronic pain in New Albany or want to achieve optimal health, don't wait another second to begin your road to recovery! If you want to start living every day pain free, call us at (812) 945-4500 to schedule an appointment or fill out a form below!