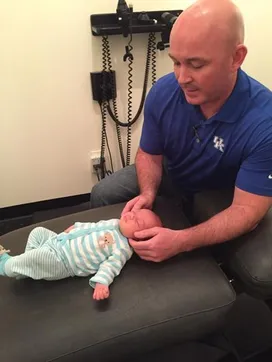 If you need a chiropractor in New Albany, Louisville or Clarksville, 1st Choice Health & Wellness is here for you. We use a comprehensive, holistic approach to treating acute and chronic pain. We provide all
types of non-surgical treatments and therapies
, such as
chiropractic adjustments,
to treat your pain condition, whether it's
back pain
,
neck pain, sciatica
,
pinched nerve, bulging/herniated disc, an injury
and more!
Chiropractic care is a natural, drug-free treatment option to manage pain in the lower back, neck, shoulder, knee and other health problems such as headaches, disc herniation and sciatica.

Our ultimate goal is to help you reach optimal health by minimizing pain and discomfort and improving your body's overall functioning.
How Does A Chiropractic Adjustment Work At Our New Albany Clinic?
Chiropractic adjustment, also called spinal adjustment or manipulation, is a procedure where a Doctor of Chiropractic (DC) manipulates the joints of the body, particularly the spine, using their hands or an instrument, with the goal of restoring joint and physical function.
Chiropractic adjustments work by manually shifting the vertebrae into place. This helps reduce pain by taking the pressure off the nerves, muscles and tendons.
Treatment & Therapies: Spinal Adjustments And Other Chiropractic Techniques
Our New Albany chiropractors care about utilizing the most advanced chiropractic techniques. We use advanced spinal correction and chiropractic adjustments among many other chiropractic techniques. Some of the most common chiropractic techniques include:
-Manual manipulation
-Flexion distraction
-Activator technique
-Gonstead technique
-Thompson, or drop table technique
-Diversified technique -Spinal Decompression
-Pro-Adjuster Treatment System
The specific technique used is designed to treat different symptoms based on the areas that are causing discomfort.
Our Approach
At our New Albany chiropractic clinic, we use a combination of therapies and techniques to relieve chronic pain symptoms without the use of prescriptions drugs or surgery. Chiropractic care under a trained professional can even be used to prevent injuries and help you achieve total health or wellness
We focus on whole body wellness without the use of medications. A focus on whole body wellness means considering the health of every other part of your body as we treat the problem area. Chiropractic, acupuncture, physical therapy and nutrition are just a few of the therapies and treatments we offer to reduce your pain through completely natural means.
We also place an emphasis on nutrition, wellness and lifestyle modifications for promoting physical and mental health. Our trained staff has years of expertise and experience in helping patients get pain relief for back pain, neck pain, headaches, and other related conditions originating from the spine.
If you are experiencing chronic pain and seek nonsurgical treatment such as a chiropractic adjustment, call 1st Choice Health & Wellness in New Albany today!

If you need a New Albany chiropractor to achieve long-lasting pain relief, call us today to schedule your appointment!