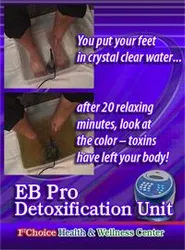 Every day each of us are exposed to toxic heavy metals such as lead, aluminum, mercury and other toxins in the environment. Once you're exposed to these chemical elements these toxins don't leave your body. The toxins build up slowly over time in your body and make you feel worse over time and form a barrier to maintaining good physical health.
A report from the United States Environmental Protection Agency (EPA) in 1979 said "toxic metals are the second worst environmental health problem in the United States. Toxic metals are widely used in industry, agriculture and food processing. Through carelessness or ignorance, toxic metals find their way into our air, water and food supply."
The problem has undoubtedly gotten worse since that EPA report from 1979. Chemicals and pollution take a physical toll on your body with the ever increasing levels of toxins. Proper detoxification is the only way to cleanse your system of these deadly poisons. 1st Choice Health and Wellness Center has a safe and easy program to detoxify your body.
The EB Pro Detoxification Foot Bath has been shown to eliminate many toxins and heavy metals (lead, aluminum and mercury) while restoring your body's natural pH and electromagnetic energy. Some of the many benefits our patients report are: more energy; better, more restful sleep; reduced allergy symptoms and the clearing up of skin conditions, including acne and psoriasis.
If you would like more information on the EB Pro Detoxification Program contact 1st Choice for additional information or to schedule an appointment.